Welcome to COOL INNOV
The outstanding research at the
Functional Materials
group of
TU Darmstadt
for the substitution of critical raw materials and materials for energy technologies has been recognized by honoring
Prof. Dr. Oliver Gutfleisch
with
ERC Advanced Grant
COOL INNOV
.
COOL INNOV
will attempt to achieve a breakthrough in caloric cooling based on magnetocaloric materials by rethinking the whole concept of this technology. Instead of the conventional idea of squeezing the best out of magnetostructural phase-change materials in relatively low magnetic fields, a second stimulus introduced in the form of pressure can help the
COOL INNOV
team to exploit, rather than avoid, the hysteresis that is inherent in these materials. It should lead to more efficient refrigeration, with a commercially viable technology that could satisfy the urgent global need.
COOL INNOV
received funding from the
European Research Council (ERC)
under the European Union's Horizon 2020 research and innovation program (grant no. 743116 - project Cool Innov).
News
On the Impact of Additive Manufacturing Processes on the Microstructure and Magnetic Properties of Co–Ni–Ga Shape Memory Heusler Alloys
Microstructure design of Co-Ni-Ga shape memory alloys by additive manufacturing can be used to prevent intergranular cracking and premature failure. The comparison of microstructure, composition and magnetic properties of Co-Ni-Ga Heusler alloy processed by direct energy deposition and laser powder bed fusion shows large differences in terms of precipitate formation and martensitic transformation behavior.
This article by F. Scheibel, C. Lauhoff, S. Riegg, P. Krooß, E. Bruder, E. Adabifiroozjaei, L. Molina-Luna, S. Böhm, Y. I. Chumlyakov, T. Niendorf, and O. Gutfleisch is published in
Advanced Engineering Materials
.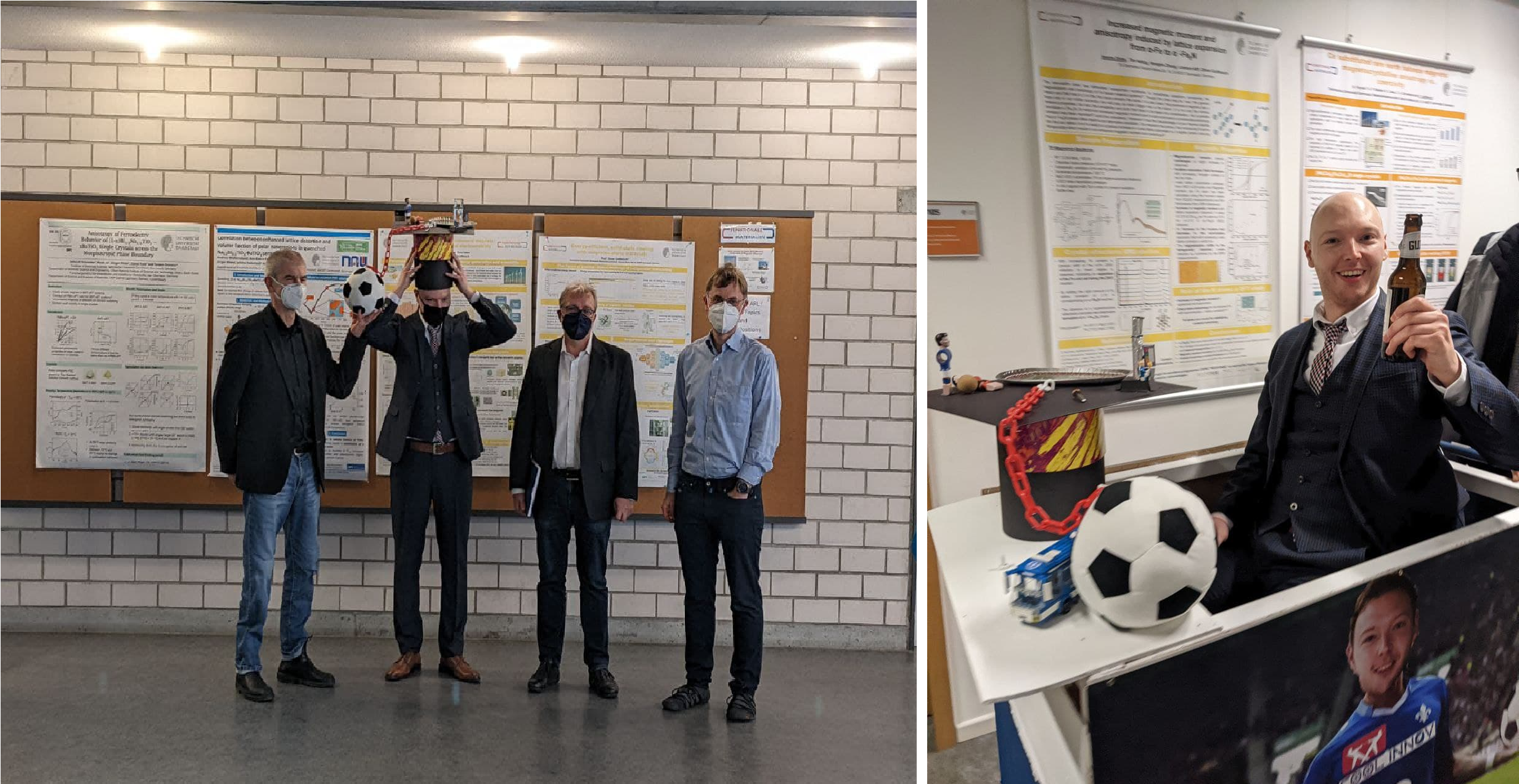 Congratulations Lukas!
We congratulate our colleague Lukas Pfeuffer to his very successful PhD defense. His thesis has the title "Concepts and microstructure design for multicaloric cooling using Ni-Mn-based Heusler compounds" and was evaluated with distinction. The traditional celebrations in our group had to be adapted to corona regulations and were carried out outside with distance. We thank Lukas for his dedicated work in the last years and wish him all the best for his future career. As a start we are very happy, that he will continue his work as a post doc in the functinonal materials group.